13cm Twin-Line Tap & Go Cutter-Head for 30-35cc Brushcutters -...
The JR TFN005 13cm Twin-Line Cutter-Head boasts a time-saving bump-feed line-jog mechanism and can be paired-up with 30 to 35cc petrol brushcutters.\nIt's supplied with 2.4mm-diameter round line and attaches by way of a M10 x 1.25mm female adaptor.\nProduct Code: JR TFN005
Price: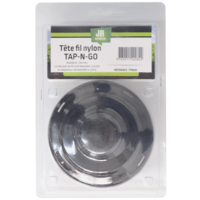 ---
"17"" Kettle Charcoal BBQ"
Get your hands on this classic charcoal-fuelled kettle barbeque and treat your friends and family to a tasty outdoor cook-up this summer!\nDesigned with durability to the fore, it boasts a vitreous-enamelled bowl and lid that will easily handle the searing temperature to which they'll inevitably be exposed.\nA chrome-plated grill prevents 'sticking' and ensures easy cleaning; while an ash-catcher makes it simple to dispose of those burnt-out coals.\nAlso featured are twin air-vents for precise temperature-management.
Price: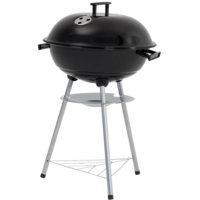 ---
2-Tooth Metal Brushcutter-Blade - JR DDS001
If you need to clear an area of heavily overgrown nettles, weeds and bramble and are finding your brushcutter's line-head's not up to the job, this 3mm-thick, twin-tooth metal blade from JR is ideal!\nIt boasts a sizeable 30cm cutting-swathe, so it offers excellent wide-area productivity.\nProduct Code: JR DDS001\nSize: 30cm x 3mm
Price: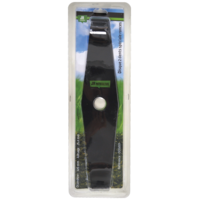 ---
2-Tooth Metal Brushcutter-Blade - JR DDS002
This fast-working 32cm-diameter two-tooth metal brushcutter-blade from JR will far outperform your machine's line-head when it comes to the clearance of woody, well-established vegetation!\nMeasuring a substantial 4mm in diameter, it's one of the heaviest-duty domestic-use brushcutter-blades available.\nSize: 32cm x 4mm \nProduct Code: JR DDS002
Price: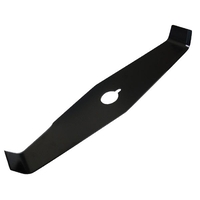 ---
206B-A2 Petrol High-Pressure Washer - 210bar / 450l/h
Enjoy high-performance cleaning and get the job done quickly and thoroughly with this seriously powerful but nevertheless attractively priced petrol pressure-washer!\nDeveloping a muscular 7hp is a largest-in-class 212cc four-stroke air-cooled engine, which, thanks to its overhead-valve arrangement, offers low-emission operation with a cut in fuel-costs and less neighbour-irritating noise.\nThe 206B-A2 Petrol High-Pressure Washer is based around a strengthened tubular-steel frame that confers rock-solid durability and ensures any knocks and bumps will be easily absorbed. \nSizeable, wide-profile transport-wheels work to optimise around-the-garden manoeuvrability; while an ergonomic padded handlebar means your hands will be spared from fatigue-inducing vibration. \nThe premium axial-type pump on the 206B-A2 produces a huge 210bar pressure, so even the most stubbornly ingrained grime won't stand a chance. \nAlso featured is a top-quality brass head for superior long-term reliability.
Price: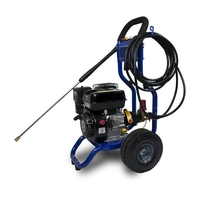 ---
"22"" Kettle Charcoal BBQ C/W Wheels"
Get out of the kitchen and cook-up a storm in the garden when you get your hands on this large-capacity 22" charcoal-fuelled kettle-type barbeque!\nCapable of catering for substantial numbers, it combines a vitreous-enamelled hood/bowl with a chrome-plated grill to ensure it excels in terms of robustness and durability.\nAn ash-catcher limits mess and means you have no trouble disposing of those burnt-out coals; while twin air-vents make it possible to adjust the in-hood temperature to suit the food you're cooking.\nThis model sits on twin transport-wheels, so it will prove easy to shift to and from the storage area.
Price: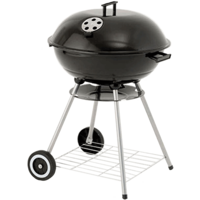 ---
220SP Petrol High Pressure Washer - 220bar / 545l/h
Hard-to-shift dirt, grime and grease won't stand a chance when confronted with the powerful 220bar jet of water produced by the 220SP Petrol High-Pressure Washer!\nWorking with a premium axial pump to produce that impressive pressure is a high-capacity 196cc air-cooled four-stroke engine that's rated at a sizeable 7hp; and which, thanks to its OHV configuration, excels in terms of fuel-economy, smoothness of operation and longevity.\nThe 220SP Petrol High-Pressure Washer is highly portable, with its substantial, wide-profile transport-wheels ensuring any operator will find it easy to manoeuvre around their property.\nIt's based around a strengthened tubular frame that will have no trouble resisting any accidental impact; and it benefits from a brass head that confers the very best in durability. \nThis model can shift a huge 545 litres per-hour and features a detergent tank that makes it possible to introduce some soap to the mix when taking-on particularly demanding jobs.
Price: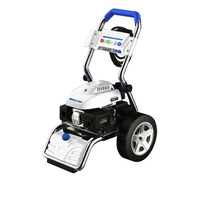 ---
3-Tooth Metal Brushcutter-Blade - JR DDS004
Swap your brushcutter's line-head with this 25.5cm three-tooth metal blade from JR and enjoy a marked boost in its cutting-performance!\nIt measures a hefty 3mm in diameter, so you can expect rugged durability.\nSize: 25.5cm x 3mm \nProduct Code: JR DDS004
Price: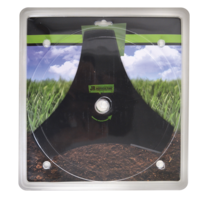 ---
3-Tooth Metal Brushcutter-Blade - JR DDS005
From JR, this aggressive three-tooth metal blade will outperform your brushcutter's strimmer-head when it comes to the clearance of dense nettles, tall weeds, well-established bramble and other more challenging growth!\nIt measures 30cm in diameter and 3mm in thickness; a combination that ensures excellent productivity and rugged durability.\nSize : 30cm x 3mm \nProduct Code: JR DDS005
Price: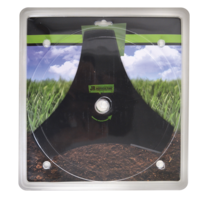 ---
3-Tooth Metal Brushcutter-Blade JR DDS008
From garden-machinery accessory experts JR, this 25.5cm-diameter three-tooth metal brushcutting blade will prove a great buy for brushcutter-owners confronted with areas of dense weeds, nettles and bramble that need clearing!\nAt 2mm thick, it offers the ideal compromise between sharpness and robustness.\nSize: 25.5cm x 2mm\nProduct Code: JR DDS008
Price: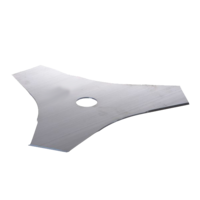 ---
4-Tooth Metal Brushcutter-Blade - JR DDS010
At a substantial 4mm in thickness, the 25.5cm JR DDS010 is one of the heaviest-duty four-tooth metal brushcutter-blades available, and as such will prove an invaluable purchase for brushcutter users for whom superior durability and and enhanced cutting-capability are key!\nSize: 25.5cm x 4mm\nProduct Code: JR DDS010
Price: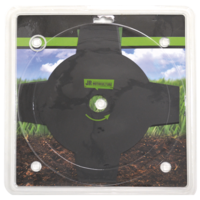 ---
60-Tooth Metal Brushcutter-Blade - 25.5cm x 1.4mm - JR DDS015
If you need to take-down vegetation that would defeat a conventional three- or four-tooth brushcutter-blade, this accessory - essentially a circular-saw blade - will enable you to get the job done!\nSuitable for both commercial and heavy-duty domestic-use, it boasts carbide-tipped teeth for hardwearing durability and measures 25.5cm in diameter.\nSize 25.5cm x 1.4mm\nProduct Code: JR DDS015
Price: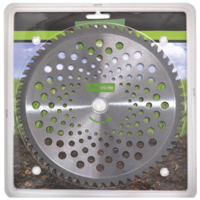 ---
8-Tooth Metal Brushcutter-Blade - JR DDS012
With eight aggressively sharp-tipped blades acting in much the same way as a saw, the 1.8mm-thick JR DDS012 Metal Brushcutter-Blade is ideal for thinning thickets and is even capable of handling saplings and less substantial mature trees!\nMeasures a compact 23cm in diameter. \nSize : 23cm x 1.8mm\nProduct Code: JR DDS012
Price: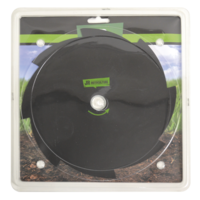 ---
8-Tooth Metal Brushcutter-Blade - JR DDS013
Boasting eight sharply serrated teeth, the 25.5cm-diameter JR DDS013 performs much like a saw-blade and will enable your brushcutter to handle all manner of thick, woody growth, including saplings and smaller-diameter fully-grown trees!\nSize 25.5cm x 1.8mm\nProduct Code: JR DDS013
Price: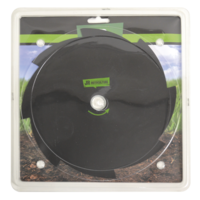 ---
Alpina AL3 41 Li 80V Lawnmower Cordless Lithium Battery Powered...
Innovations in cordless baterry lawn mowers have come a long way, no more so than the Alpina AL3 41, with Lithium power technology the 80V range is designed to handle the demands of larger lawns.\nThe powerful 80V Lithium-Ion battery delivers uncompromising performance equivalent to a petrol engine, with up to an hour of mowing from a single charge and a charge time of only 90 minutes.\nSimply hold in the starter button and engage the lever and you're mowing. No priming, no choking, no pulling the recoil rope, no trips to the petrol station, no barriers to you enjoying your garden.\nThe Alpina AL3 41 Li is a 3 in 1 lawnmower and features a 60 litre grass collector with an indicator to show when it is full. Alternatively, you can choose to rear discharge the grass clippings or even mulch. Mulching grass saves so much time - it can be more than 30% quicker as there is no stopping to have to empty the collector. Mulching the grass allows the clippings to be recycled, improving the soil as they decompose forming a natural fertiliser high in potash and nitrogen.\nThe battery and charger are included.
Price: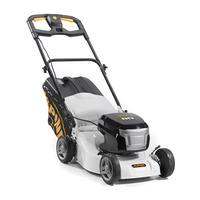 ---
Bahama Stainless-Steel Gas BBQ Island
Get top-of-the-range features, capacity and build-quality with the Bahama Gas BBQ Island!\nIts seven-burner design comprises five main burners for roasting and grilling; an infrared sizzle-burner for searing meat; and a back-burner for the optional electric rotisserie-section.\nThe Bahama Gas BBQ Island utilises stainless-steel throughout its construction, so it offers inherent corrosion-resistance and will prove easy to wipe down.\nA double cupboard,twin side-cupboards and slide-out shelves provide a huge amount of storage- and serving-space; while a warming rack allows cooked food to maintain its temperature.\nSo as to ensure you can see what you're doing in poor light, the control-panel on the Bahama is illuminated by LED lighting and the grilling area by two halogen bulbs.\nYou'll also get a handy integrated ice-bucket; a built-in thermometer for 'just so' temperature setting; and flare-up-limiting flame-tamers.
Price: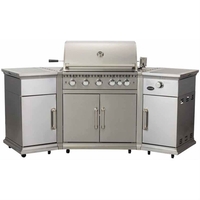 ---
Bertolini BTR-1750D Transporter
Shift rocks, gravel, logs and construction-materials over adverse terrain the safe, hassle-free way with this professional-grade tracked transporter from high-end Italian manufacturers Bertolini!\nDelivering a hefty 4.8hp is a Honda GX160 engine that employs Honda's efficiency-maximising and emission-minimising overhead-valve (OHV) technology; and which boasts a precision-balanced, ball-bearing-supported crankshaft for low-vibration operation.\nEnhancements to the breather-valve, muffler and case-cover keep noise down to a manageable level; while a dual-element air-filter and cast-iron cylinder-lining mean you can expect unwavering reliability over time.\nThe Bertolini BTR-1750D Transporter excels in terms of manoeuvrability, with its minimal 70cm turning-circle and intuitive clutch-based steering enabling you to realign and to negotiate obstacles with supreme ease.\nIt runs hard rubber tracks that facilitate the coverage of the most challenging surfaces; and it offers a maximum 60° dump-angle that makes it ideal for the creation of piles and mounds (the dumping-system is hydraulic).\nSo as to help you adapt to the load- and terrain-type, Bertolini have equipped this model with a multi-speed gearbox comprising four forward- and two reverse-gears.\nAlso featured is an extra-robust frame for superior strength and durability; and an oil-immersed transmission that means reduced wear and tear on key components.\nThe load-capacity is a substantial 550kg (175-litres).
Price: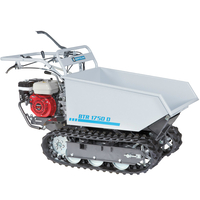 ---
Bertolini BTR-340H Transporter (Honda Engine)
Transport heavy and/or bulky items around your yard and garden with no effort expended using this easy-handling powered wheelbarrow from Italy-based manufacturers Bertolini.\nDriving it is a Honda GCV135 engine; a 135cc (3.5hp) four-stroke unit with an overhead-cam configuration for a cut in fuel-costs, noise and emissions; and Dura-Lube lubrication and a robust resin cam-shaft for impressive durability. \nHonda's use of precision-engineered components ensures less vibration and therefore less wear-and-tear; while their provision of a decompression-valve means the lightest of pulls will see the engine spark into life.\nThe Bertolini BTR-340H Transporter has light-touch brake-based steering; a four-speed gearbox (two forward; two reverse); and a remarkably tight 70cm turning-radius - a combination that makes it perfect for use where space is at a premium.\nIt features a belt-clutch, which automatically disengages when the main control lever is released; and it boasts a telescopic loading-platform that makes it possible to shift the most awkwardly bulky loads without fuss. \nThis model has a sizeable 350kg load-capacity dumps at 45˚, with the dump-mechanism manually-operated.
Price: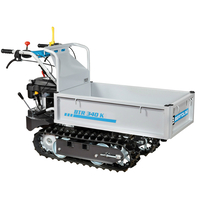 ---
Bertolini BTR-450 Transporter
Aimed at agricultural and professional commercial construction-workers, the rugged Bertolini BTR-450 Transporter takes the strain out of shifting heavy and/or awkwardly shaped loads.\nIt's fitted with a Honda GX120 engine; a high-performance 118cc (3.5hp) four-stroke unit that combines an overhead-valve with a high compression-ratio and optimised valve-overlap so as to keep fuel consumption at impressively low levels. \nA dual-element air-filter and a cast-iron cylinder liner work to maximise engine-life; while an automatic mechanical decompression system will see the engine fire-up with the gentlest of pulls on the starter-rope.\nThe Bertolini BTR-450 Transporter has a super-tight turning-circle (70cm) and a four-speed gearbox (3 + 1), so you'll have no trouble manoeuvring it where space is restricted.\nIt has a 50˚ dump-angle and can be used fully laden on inclines up to 20˚; and it features oil-immersed gears, so exceptional long-term reliability is assured.\nThanks to its telescopic loading-platform, the Bertolini BTR-450 is capable of transporting items that are longer than the tipper bed.\nA power take-off facilitates the use any of Bertolini's extensive range of attachments; while protected brakes ensure regular use in extreme conditions won't cause undue wear-and-tear.
Price: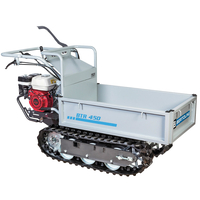 ---
Bertolini BTR-550D Transporter
Shift all manner of heavy or awkwardly-shaped materials around fields, farmyards and building-sites quickly and easily with this high-powered, high-torque tracked transporter from Bertolini!\nSupplying that power is a Honda GX160 engine; a 163cc four-stroke air-cooled model that's rated at a sizeable 4.8hp (@3600rpm); and which blends a high compression-ratio with OHV technology and optimised valve-timing to ensure you'll be impressed when it comes to fuel-economy.\nAutomatic mechanical compression-release means the gentlest pull on the easy-grip starter-cord will achieve ignition; while a premium dual-element air-filter and cast-iron cylinder-lining work to maximise long-term reliability.\nThe Bertolini BTR-550D Transporter has independent track-clutches and brakes controlled by handlebar mounted levers - you'll enjoy intuitive manoeuvrability and be able to whizz around and between obstacles without fuss (the turning-circle is just 70cm).\nIt features an oil-immersed transmission that minimises wear and tear for superior durability; and it boasts high-traction rubberised tracks that confer the sought-after all-terrain capability.\nFurther key benefits included a six-speed gearbox (3+3) that further enhances manoeuvrability; and convenient hydraulically-operated tipping to a maximum angle of 50°.
Price: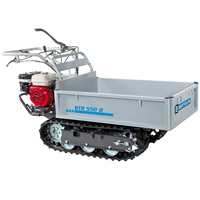 ---
"Big MUTT with 9""x7"" Blade and 64"" Wooden Handle"
"Big MUTT scrapers have heat treated roll forged steel blades with a bevelled cutting edge for durability and clean cutting. The 225mm (9"") x 175mm (7"") blade on this MUTT can be hand re-sharpened to maintain the cutting edge and has a polished tip for easy cleaning. Supplied with a 1640mm (64 1/2"") wooden handle for a natural feel, this Big MUTT can be used for numerous scraping or cutting applications includin \nChopping\nScraping\nDigging\nEdging\nTrenching\nRoot removal\nWeed clearance\nPlaster removal\nIce removal\nTile removal\nCarpet removal\nPaint removal\nPart nummber: ROU64-396"
Price: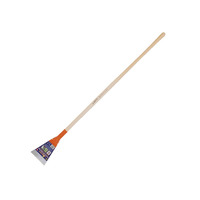 ---
Brushcutter Pro Safety-Kit JR PRT016
If you use a petrol brushcutter it's really important you fully protect yourself and create a safe environment in which to work.\nThis Brushcutter Pro Safety-Kit from JR provides vital protection of your ears, eyes, face and hands.\nIt comprises everything you need to get the job done safely, including pro-style ear defenders; heavy-duty gloves; goggles and a professional face-shield made from breathable mesh that can be flipped-up when not needed.\nWhether you are buying a new machine, or have some strimming work planned with your current one, this kit will ensure you are fully equipped for the job.\nProduct Code: JR PRT016
Price: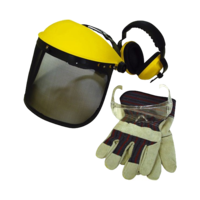 ---
Brushcutter Shoulder-Harness (Single) - JR HAR001
From garden-machinery accessory specialists JR, this single shoulder harness is perfect for 'loop'-handle brushcutters and will distribute machine-weight across the operator's body so as to keep fatigue at bay for longer.\nIt benefits from shoulder-protection and can be adjusted to suit the wearer's height.\nProduct Code: JR HAR001
Price: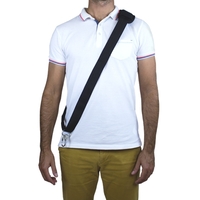 ---
Bull Brahma Stainless-Steel Built-In Gas Grill
Foodies who fancy preparing large outdoor family-feasts over the summer are sure to be impressed by this high-performance, high-capacity gas BBQ from top-end US brand Bull!\nBull's provision of five independently controllable burners means it can simultaneously handle a diverse array of foods, regardless of temperature-requirements and cooking-times.\nThe burners benefit from safety-optimising flame tamers and boast dependable piezo-type flame-tamers. \nContributing further to capacity and versatility is a rotisserie section that's heated by a super-efficient infrared back-burner.\nThe Bull Brahma stainless-steel drop-in Gas Grill incorporates Bull's innovative ReliaBull heat-distribution technology which eliminates temperature inconsistency throughout the cooking-area, thereby ensuring even results across the board.\nA grease-tray and removable drip-tray liner make the post-cooking clean-up a breeze; while a temperature-gauge makes it possible to achieve precision heat-levels.\nThe firebox, grates and burners on this model are made from heavy-duty stainless-steel that's so durable the manufacturer is able to back with a lifetime warranty!
Price: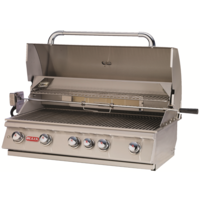 ---
Bull Stainless-Steel Double Door ( Brahma Kitchens)
Close-off the storage-space of your Bull grill and keep the contents safe and dry with this 97cm double-door!\nFrom Brahma Kitchens\nStrong and durable, it's double-lined and has been machined from top-grade 16-gauge stainless-steel.\n#3400
Price: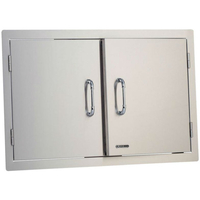 ---
"Chainsaw Chain 0.250"" P 1.3mm (25cm / 60 Links) - JR CT00"
"Length of Cut: 25cm\nChain Gauge: 1.3mm / 0.050""\nChain Pitch: 0.250""\nNo. of Links: 60"
Price: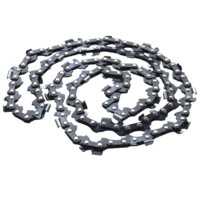 ---
"Chainsaw Chain 3/8"" P 1.1mm (20cm / 33 Links)- JR CT01"
"Length of Cut: 20cm\nChain Gauge: 1.1mm / 0.043""\nChain Pitch: 3/8"" LP\nNo. of Links: 33"
Price: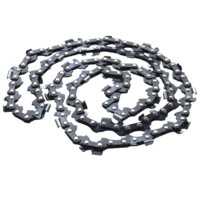 ---
"Chainsaw Chain 3/8"" P 1.1mm (20cm / 33 Links)- JR CT02"
"Spare chainsaw chain 3/8"" P 1.1mm (20cm / 33 Links)- JR CT02 \nJR is our own brand of machinery spares with over 2000,00"
Price: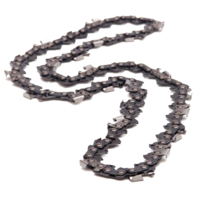 ---
Chainsaw Chain Grinding Wheel Stone 100mm x 10mm x 3.2mm - JR-AFC0016
Sharpen your Chainsaw with JR's 10mm Chainsaw grinding stone wheel.\nThis is an essential accessory to maintain your chainsaw and ensure optimal working conditions. Cut well and provide a long life to your chain saw.\nWe also offer other grindstone sizes ( 10mm, 16mm, and 22m bore) \nBore : 10 mm\nThickness : 3.2 mm\nDiameter : 100 mm\nSharpening Grinder
Price: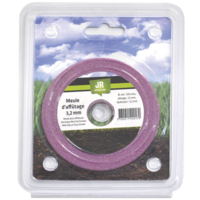 ---
Chainsaw Chain Grinding Wheel Stone 100mm x 10mm x 3.2mm- JR-AFC0015
Sharpen your Chainsaw with JR's 16mm Chainsaw grinding stone wheel.\nThis is an essential accessory to maintain your chainsaw and ensure optimal working conditions. Cut well and provide a long life to your chain saw.\nWe also offer other grindstone sizes ( 10mm, 16mm, and 22m bore) \n Bore : 16 mm\n• Thickness : 4.7 mm\n• Diameter : 100 mm\n• Sharpening Grinder
Price: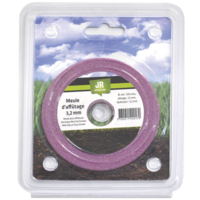 ---